For our 2023 Wine in the Warehouse, we're bringing in a very special "TOP CHEF" as our Featured Celebrity Chef! Think of the southern decadence of creamy bread pudding, juicy fried chicken, and ingredients made from scratch – all made with love – and you've captured the expertise and Good Hands of Tiffany Derry…
About Chef Tiffany Derry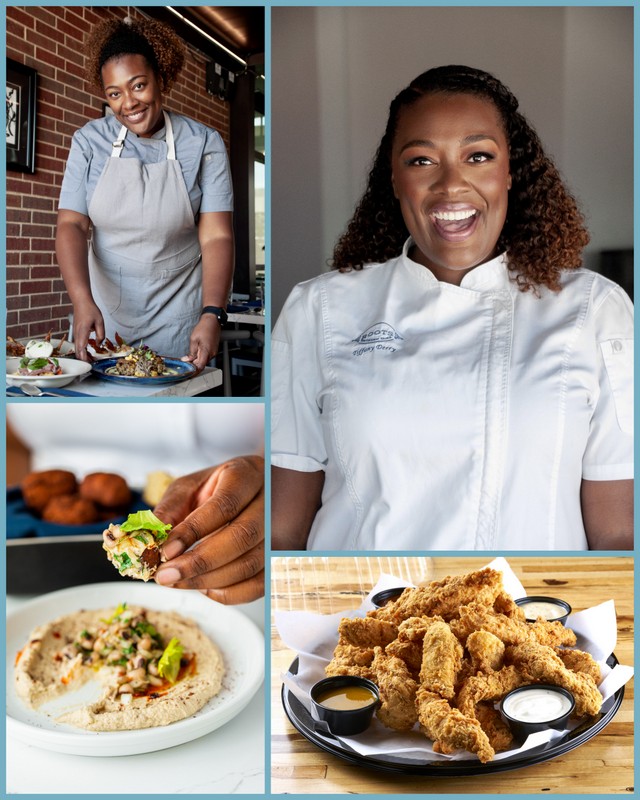 Beaumont, Texas native Tiffany Derry emerged into the national spotlight when she first appeared onseason 7 of Bravo's Top Chef, where she finished in the top four and earned the title of "fan favorite", going on to compete on Top Chef: All Stars. Her warm southern charm and culinary expertise led to more television appearances on shows such as Chopped, Chopped Kids, The Great American Recipe, Beat Bobby Flay, Tournament of Champions, and more. Derry currently runs two restaurants through her company T2D Concepts, including Roots Chicken Shack and Roots Southern Table, which was a 2022 James Beard Award Finalist for Best New Restaurant. 
From an early age, Derry knew her purpose was to be in the kitchen. Growing up on her family's farm in the South, farm-to-table eating wasn't a trend, it was a way of life—eating with the seasons, canning and preserving fresh-picked fruits and vegetables, fresh pies on the counter, never letting anything go to waste. Her grandmother always welcomed guests to her kitchen with love and taught Tiffany that cooking is more than just putting a few ingredients together—it's a passion.
Outside of her restaurants and television appearances, Tiffany is a fierce advocate for social justice and equity across gender, race, and food access. She spends much of her spare time lobbying politicians to pass sustainable and healthy food polices—she was integral in getting the farm bill updated in 2013. Tiffany also serves as a member of Les Dames d'Escoffier and a spokesperson for the James Beard Foundation's sustainability efforts.
Welcome Chef Tiffany Derry!